Julian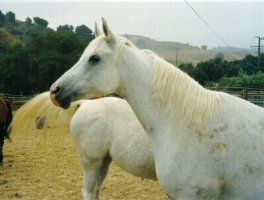 Julian is an Arabian Horse Rescue Network alumnus; without their intervention, he would have been converted to horsemeat. (Sadly, that's literal.) He is living proof that not all horses bought for slaughter are broken-down old nags. He was born in 1988, or thereabouts. He arrived saddle-trained, after a fashion, but Charles Wilhelm and his staff have done their usual expert job with him. He's a real pleasure to handle now.
I am not philosophically opposed to slaughtering horses per se, but I have major problems with the waste and throwaway mentality embodied in the sale of a young, healthy horse to a meat packing plant.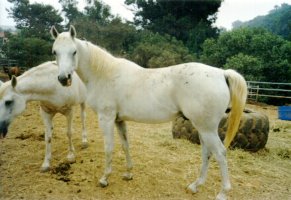 Paloma, my first rescue, is enjoying her new position as a trail horse near Vandenberg Air Force Base. Kelly, another rehab case, is exploring the trails in the Santa Cruz area.
My mares, Capucine and Petit Point CF, are Davenport Arabians. (The list of labels which customarily follows is: Al Khamsa, Asil, Blue List eligible, 100% CMK.)


Jean Marie Diaz // ambar@clock.org
Last modified: Mon Apr 15 19:11:48 PDT 2002